russia is cracking down on minority languages
Read in Google News!
russia has spent the last several years aggressively advocating for the rights of russian minorities abroad, and in particular for the "protection" of the russian language. Whenever a country takes any step that can be construed as suppressing or marginalizing russian speakers, the kremlin is quick to respond in the most strident of tones, writes COFUND Junior Research Fellow at Durham University Guzel Yusupova for theconversation.com.
In October 2017, when Latvia's government made Latvian the default language of education, Sergey Zheleznyak, the member of russia's State Duma Committee on International Affairs, did not hold back. "The decision to switch educational instruction in Latvian schools for national minorities to the Latvian language is in violation of the European Union's legal framework and resembles linguistic genocide," he said.
Yet just three months before Zheleznyak's furious statement, russia itself abolished the compulsory teaching of minority languages at schools in its own "ethnic republics" – part of a much larger project to remake the way russia works, and to turn away from the relatively stable multiculturalism that russia has maintained for decades. Considering its grandstanding about the rights of ethnic russians abroad, the pressure the kremlin is putting on ethnic minorities at home looks like pure hypocrisy.
Since he came to power 18 years ago, Vladimir putin has overseen a sweeping transformation of russia's "ethnic federalism", where a majority of ethnicities have their own territorial autonomy. That includes the effective abolition of one of the last elements of true federalism in russia – namely, the status of minority languages in ethnic republics as second official languages with equal status to russian. The kremlin is increasingly pursuing a program of cultural homogenization, gradually removing support for education in minority languages, curriculums with ethno-regional components, and other cultural initiatives by russian ethnic minorities. All political activities designed to shore up minority identities are under pressure as well.
And sure enough, the russian government has now adopted new amendments to an education bill that will make minority languages lessons in ethnic republics optional, and which limit their teaching to a maximum of two hours a week. These measures will only hasten the demise of these languages – and will ensure that the russian language remains preeminent across the country.
Under pressure
Until the summer of 2017, minority languages were compulsory subjects in schools in most ethnic regions of the russian Federation. Depending on the region, their prominence in the classroom varied from one hour per week in primary school to equal terms with the russian language throughout the curriculum.
But last July, putin gave a speech at the meeting of the Council on Interethnic Relations in Mari El, one of russia's ethnic republics. He stressed that the russian language "cannot be replaced with anything" and teaching ethnic-minority languages would become optional, to avoid any possibility of "forcing someone to learn a language that is not native to him". In September that year, a presidential special order sent the General Prosecutor's Office to audit schools in ethnic republics to verify whether minority language study was voluntary or compulsory.
The first checks took place in Bashkortostan and Tatarstan. Inspectors discovered that minority languages in both republics were being taught on a compulsory basis. As a result, teachers were fired en masse and ethnic minority language teaching became a highly sensitive political issue.
Protests started during the autumn in ethnic regions where the prosecutorial examination took place. Some of the first demonstrations sprung up in Bashkortostan, where more than 2,000 people came to protest in the main square of the city of Ufa even though local authorities had not granted them permission. When police tried to end the demonstration by taking the leading activists, the protesters actively defended them. Nonetheless, several people were detained by the police.
Meanwhile, Tatar activists have several times been refused permission for a proposed rally in Kazan, the capital of the Republic of Tatarstan. Several activists have instead organized lonely one-person pickets, the only way to protest in russia without prior permission from the authorities. Some of them were detained by police anyway. Others organized flashmobs; on one occasion, a group gathered in front of the Republican State Council in Kazan just before a special session on the language issue. They handed out Tatar alphabet textbooks to local MPs who were coming to this session. One was so touched by the gift that he started singing a song in Tatar; the crowd joined in.
After this event, participants received a warning from security services about the impermissibility of extremist activities. All students who joined in the gathering were threatened with expulsion from their universities.
There were some other attempts in Tatarstan and in several other ethnic republics to resist the state's moves against minority languages. But all these attempts faced preemptive actions by security services or local officials appointed by moscow.
Backfired
The restrictions on public protest and the distance between the various ethnic regions have forced activists from across russia to unite online, where they're doing everything from writing joint electronic petitions to putin to consulting each other on ways to fight off legal pressure from the authorities.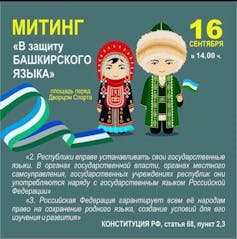 This online activism quickly grew, with more and more ethnic minorities joining in. Finally, in June 2018 they created an official organisation to promote multiculturalism and federalism, the Democratic Congress of the Peoples of russia.
Most importantly, online resistance has been spreading among ordinary people. Many have started to share various memes and opinions on minority language issues; some started to use their native languages more in online communication, both as a symbolic act and a means of evading the security services, whom they assume are working only in russian.
One particularly influential campaign saw the above image, credited to Radik Musin and Ivan Pivovarov, widely shared along with the hashtag #StopLanguageGenocide, referring to all minority languages of the russian Federation. It was followed by a clutch of other online campaigns in several republics, each defending their own language.
In a country as vast and diverse as russia, top-down assimilation is a poor way to shore up a spirit of national unity. Assimilation policies will always meet with resistance, even entrench it; in this case, the result is a welter of grassroots initiatives against the government's plans. It seems the government's efforts to homogenize russia from east to west are strengthening exactly the sort of identities they were supposed to marginalize.
Читай у Google News!